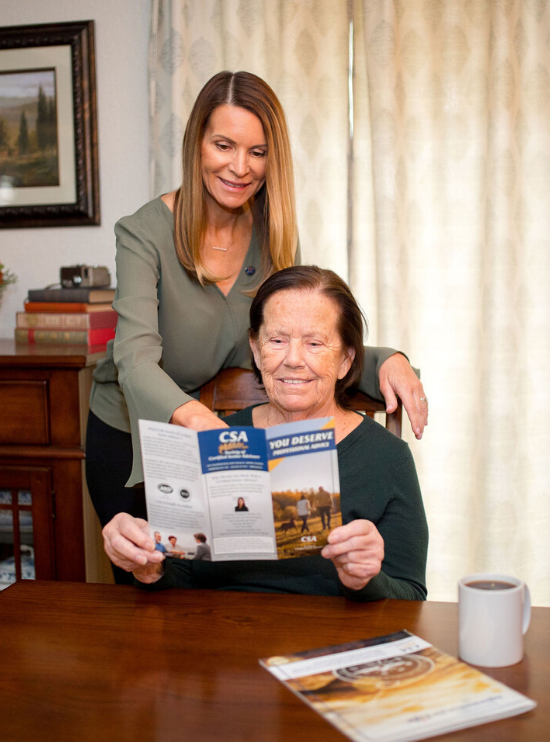 View my latest Livonia Today article:
"With my 30 years of experience, I have seen many families make sudden and uninformed decisions about what is next for their aging loved ones. With our expertise and guidance, I help give you the tools and resources your family needs to make the best decision that suits your loved one's needs."
– Charlotte Thibault-Balluff, Owner
Schedule a call with Charlotte for a day and time that you're available using this calendar.

ASSESSMENTS
With our customized assessment tools, we have the ability to get to know you, your needs, wants, and budget. I take the time to get to know you, your routines, likes, dislikes, health conditions, abilities/disabilities, preferences, and every detail that will help us find the right solution for your unique situation.

FAMILY SUPPORT
With over 30 years' experience helping seniors and their families we have the knowledge and experience to assess what community resources are going to help support you and your family with your unique situation. I will be an ongoing advocate for you and your family before, during, and even after the transition!

PLANNING
With our process you will feel confident we can guide you and your family with a comprehensive plan to move forward with the next steps. Whether I'm working on your plan for the future or need immediate placement assistance, I will create and follow the plan I have worked out together.

SENIOR PLACEMENT
With so many options to choose from, we help by educating you on what the different types of senior living communities are available in the area of your choice that meets your budget requirements. Also known as senior living solutions, our placement service offers more than just the placement.

TOOLS
Our tools consist of our medical needs' assessment, home safety assessment, financial worksheet, and "MY WAY" All About Me questionnaire. These comprehensive tools help us to ensure we have enough information about you to guide you in your search for senior living or care in your home.

RESOURCES
A Place for You has many trusted vetted community resources we can refer you to should you need that are out of our scope of practice. I work with Social Workers, Elder Law Attorneys, Veteran's Specialist, Financial Planners and more!
Frequently Asked Questions
We honorably accept referrals for those who need our services or know someone who does. Anyone can send us a referral, and when you do, we have this form for you to use. Please fill out as much information as possible. The more information we have, the easier it will be for us to help and find the best resources available to suit your needs. Examples of our referral partners include:
Homecare agencies
Hospice companies
Doctors
Physician groups
Families
Family caregivers
Home healthcare
Nurses
Therapists
"It is with much enthusiasm that I am writing to recommend the services of the Charlotte Thibault-Balluff of A Place for You. My husband's 86-year-old aunt had developed issues that were making it impossible to live alone. We realized that after hospitalization, it was going to be necessary for her to have 24-hour care."​
"So grateful for the invaluable advice and guidance that I continue to receive. During a highly stressful and anxiety filled time, Charlotte 's kind words, professional demeanor and positive attitude were a great source of comfort and strength."
"I found Charlotte through word of mouth. My mom's situation proceeded very quickly so I did not end up meeting her in person. She was professional and caring at the same time. She knew about my mom's UAW health insurance package. I felt comfortable talking to her in what was the worst time in my life. She helped me research assisted living and rehab centers by phone and text while I sat at my mom's hospital bed. She made me feel so much better about the kind of treatment my mom could get. She was not intrusive but she kept in touch and I knew I could reach out any time I needed to. She stayed in contact after my mom passed, following up to see how I was doing. I highly recommend her and her company."
"Dear Charlotte, I want to thank you for your service and appreciated your help so much! We were very impressed with your character and professionalism and I highly recommend you and your agency!"
"Charlotte, Thank you for guiding me along this difficult path. You went above and beyond my expectations."
"I still am surprised at how good of a fit the facilities were for my mom. In her last month she was convinced that she was on a cruise and kept saying she didn't want to end the vacation. I can't imagine a better glide path. I want to thank Charlotte for her help. I would not have been able to do it without her experience."
"My experience with "A Place for You" was wonderful. Charlotte was so informative and helpful it made the whole process much easier than expected. My mother loves the foster home that we chose. I highly recommend "A Place for You" and especially Charlotte Thibault-Balluff."
"Very thorough, with professional insights and knowledgeable advice. Didn't just "broadcast" my email address to numerous facilities but set up an itinerary of places to visit and accompanied us to each one. Very helpful and involved."
"Charlotte and the A Place For You team are always a joy to work with; they find the best solutions for their clients. Charlotte gets to know her clients well to make the best recommendations. She is a problem solver and pays attention to detail."
"Charlotte from "A Place For You" is an excellent elder care consultant. She has a kind and knowledgeable approach to skillfully navigating the often confusing and seemingly convoluted Senior Care Living world. I personally recommend Charlotte if you need to transition someone you love into a Senior Care or Memory Care living environment. For me it was memory care and I could not be happier with how things turned out for my father."